Services
JdB Sound Acoustics is a consulting company. With over 1200 church projects commissioned covering just about every acoustical problem you can imagine, we have given churches the solutions they asked for and more every time. Our experience to predict the result and deliver is second to none. Along with that, we make every effort to design acoustical fixes that any church can afford.
JdB Sound Acoustics provides 3 basic services. They specialize in church acoustics, church sound systems and HVAC system designs to manage noise avoidance.
JdB Sound Acoustics has been servicing the church community exclusively since it started in 1983. We specialize in worship space acoustics, fellowship hall acoustics, gym acoustics (for churches that have gyms) Gymatoriums, church classrooms, and boardrooms.
Churches are the hardest spaces in the world to get the right balance between worship, speech and music. Getting that ratio between speech, all types of music and congregational singing is possible when you truly understand how worship works and how sound moves around such a large.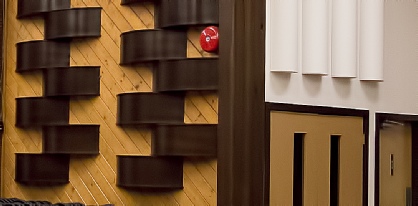 We created a new way of assessing the acoustics of a church. This method works every time. Our solutions are often copied but rarely duplicated. We learned a long time ago that the methods used for concert halls, recital halls, theatres, lecture halls or any place were people gather as a static audience, those methods of sound management just don't work well in a church. Yes, anyone can put panels on a wall and change the sound of a room but when you visit most churches that have such panels, you soon discover that all they did was trade one set of problems for another and the quality of worship was not improved at all. Such acoustical fixes do improve the performance of a sound system slightly but falls way short of what was expected and the congregational singing is often worse than before. If you are going to spend a lot of money on room acoustics, why not get everything fixed at the same time. It doesn't cost any extra and it never has.
DIY
We design all acoustical management systems so that a church can build and install the systems themselves.
It is a huge cost savings. We can also design systems that uses off the self products - depending on what your budget allows.
Turn-Key Projects
JdB Sound Acoustics does not provide turn-key services. JdB Sound can work directly with your local sound system company to ensure the best and safest installation of the acoustics and sound system.